SONY VPL-SW535 data projector
SONY VPL-SW535 video projector with 3000 lumens brightness and 2500:1 contrast is suitable for conference rooms and training classes. This video projector is Ultra Short True and you can place it very close to the screen or smart board without the shadow of the person disturbing your view. A very suitable option to use with Smartboard .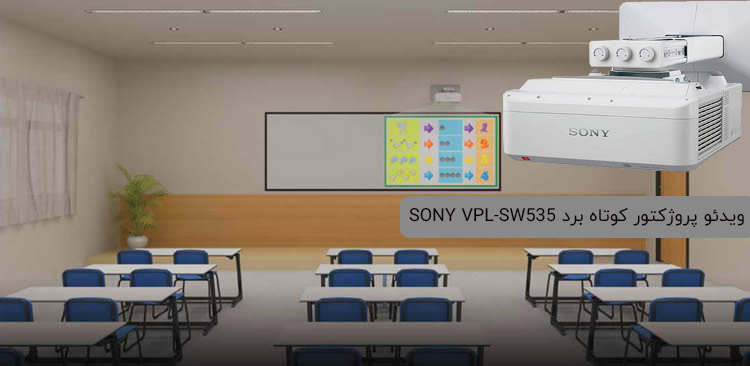 this Video projector قابلیت نصب بر روی دیوار و سقف و قرار گیری بر روی میز را دارد.همچنین کیفیت تصویر WXGA تصاویری واضح و شفاف را ارائه می دهد.
Display 6 image modes
Choose between six different image modes in this projector, including dynamic, game, blackboard. Cinema, presentation and standard create the ability to optimize the image with any type of input. Also, by making special settings, it is possible to display the image with three different lighting modes. You can change the display mode according to the space and user type and enjoy the content display.
Brilliant pictures
شدت روشنایی 3000 انسی لومنی ویدئو پروژکتور SONY VPL-SW535 این اطمینان را به شما می دهد که نوشته ها و محتوا به صورت واضح نمایش داده شود. همچنین می توانید در هر فضایی با هر مقدار نوری از آن استفاده کنید. رزولوشن HD Sony SW535 نگرانی شما بابت نمایش جزئیات را برطرف کرده و با خیال راحت تمام نکات ریز را ارائه دهید.
Automatic brightness of SONY VPL-SW535 video projector
When the data projector is turned on, the device detects the input port and displays the image. If the input is not connected to the video projector, the brightness of the video projector will decrease after the set time, saving energy. This product at a reasonable price from the site Tadkala provide.