SONY VPL-SW535 data projector
SONY VPL-SW535 video projector with 3000 lumens brightness and 2500:1 contrast is suitable for conference rooms and training classes. This video projector is Ultra Short True and you can place it very close to the screen or smart board without the shadow of the person disturbing your view. A very suitable option to use with smart board.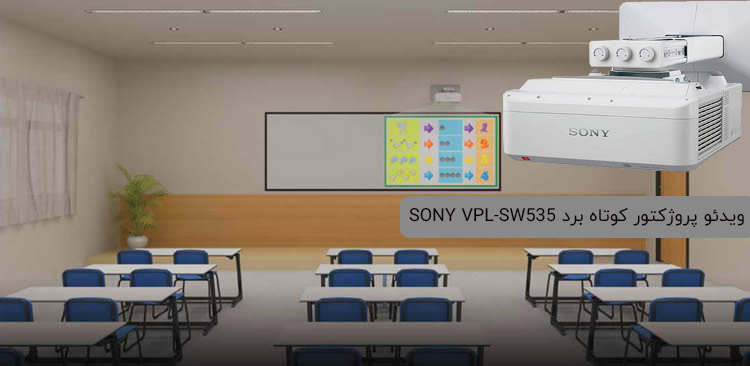 This video projector can be installed on the wall and ceiling and It has the image quality of WXGA and provides clear and transparent images.
Display 6 image modes
Choose between six different image modes in this projector, including dynamic, game, blackboard. Cinema, presentation and standard create the ability to optimize the image with any type of input. Also, by making special settings, it is possible to display the image with three different lighting modes. You can change the display mode according to the space and user type and enjoy the content display.
Brilliant pictures
Brightness intensity of 3000 lumens of video projector "noopener">SONY VPL-SW535 ensures that the text and content are displayed clearly. You can also use it in any space with any amount of light. The HD resolution of the Sony SW535 solves your worries about displaying details and provides all the details with ease.
Automatic brightness of SONY VPL-SW535 video projector
When the data projector is turned on, the device detects the input port and displays the image. If the input is not connected to the video projector, the brightness of the video projector will decrease after the set time, saving energy. This product at a reasonable price from the site Tadkala provide.